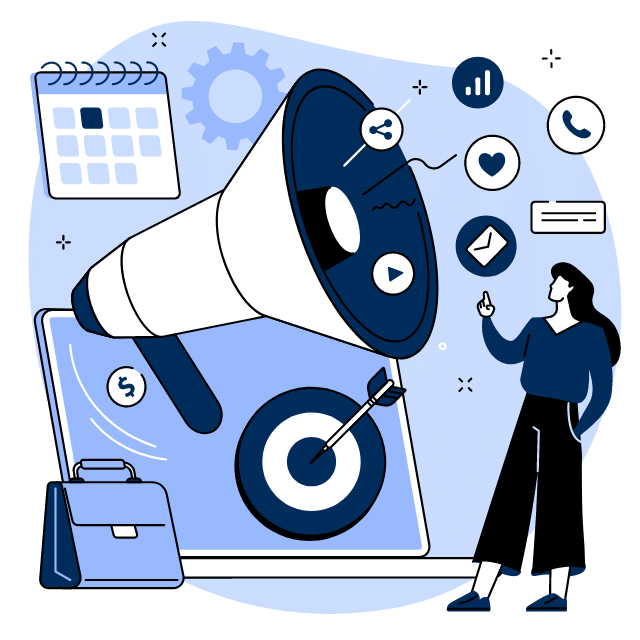 Hi! We're Impakt Digital.
Unlock Your Brand's Potential!
Reach, engage, and convert like never before with our tailored social media strategy.
We make, manage, and market websites for small businesses.
Social Media, Simplified: We handle the complexity so you can focus on what you do best – running your business.
Is your business struggling to connect with your target audience and achieve meaningful growth through Social Media Marketing?
Whether you're just starting out or looking to take your social media to the next level, we're here to guide you every step of the way!
Our small business social media marketing packages cater to the specific needs of businesses, aiming to boost brand awareness, engagement, and growth through various social media channels.
How We Do It
✅ Social Media Audit and Strategy Development:
We kickstart your social media journey by evaluating existing profiles and crafting a customized strategy that aligns with your brand's unique goals and audience, setting the stage for success.
✅ Profile Setup and Content Creation:
By creating and optimizing your profiles across platforms like Facebook, Instagram, and Twitter, and developing a vibrant content calendar filled with engaging posts, we ensure a consistent and captivating brand presence.
✅ Community Engagement and Management:
Our hands-on approach to community engagement helps you connect with your audience, respond to feedback, and organically grow your follower base, turning casual viewers into loyal customers.
✅ Paid Advertising and Promotions:
We maximize your reach and conversions with targeted social media advertising campaigns and promotions, carefully tailored to your budget and business objectives, providing a valuable return on investment.
✅ Analytics, Reporting, and Ongoing Support:
Our commitment to your success continues with regular performance analysis, insightful reports, and continuous support, keeping you informed, agile, and ahead of the social media curve.
Social Media Marketing Packages Start At $639 Per Month
Ready to take your business to the next level with our Social Media Marketing services? Contact us today to get a personalized price estimate. We'll provide you with a customized social media marketing package tailored to fit your business's unique needs. Our packages are designed to connect with your audience, enhance your brand's online presence, and achieve measurable growth, all while being mindful of your budget constraints.
Not ready to make it official?
Take Us For A Test Drive!
Get Your Free Website Review or SEO Audit Today!
Simply provide your email, and a team member will reach out to get all the details.
Simply provide your email, and a team member will reach out to get all the details.
We'll never sell or share this information. Promise.