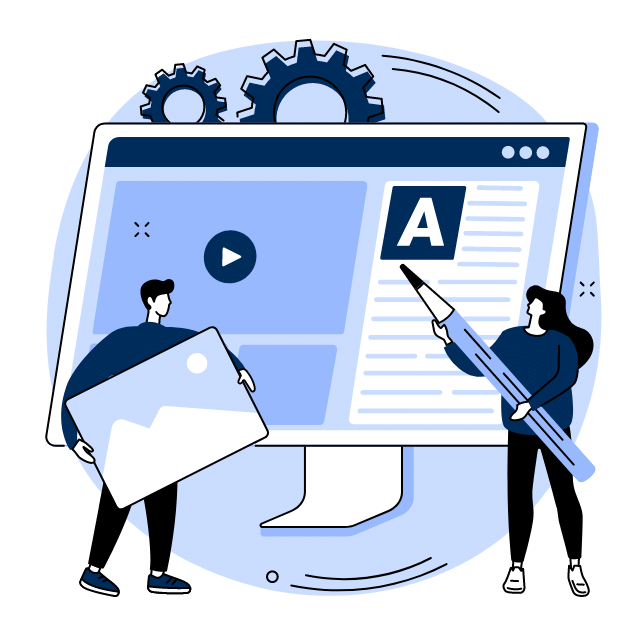 Transform Your Small Business Website!
Boost Your Online Presence and Drive Growth
Transform Your Small Business Website!
Revitalize Your Small Business Website Today, Reap the Benefits Tomorrow
Are you struggling with an outdated website that isn't attracting customers or driving growth? Impakt Digital specializes in transforming small business websites to help you stand out in the digital landscape.
Our team of experts will work closely with you to create a custom website that reflects your unique brand and business goals. We offer end-to-end support, from initial design to ongoing maintenance, ensuring your online presence stays fresh and competitive.
Let's create a stunning website that accelerates your small business's growth and propels you into a brighter tomorrow. Get in touch with us today for a free consultation and see how we can bring your vision to life.
What You Get
The primary features and benefits of an Impakt Digital Website include:
✅ Customized Designs
At Impakt Digital, we understand that each business is unique, and therefore, we offer customized website designs that reflect the business's personality, values, and vision. Our team of experienced designers takes the time to understand our client's business objectives and target audiences before creating a customized design that aligns with their needs.
A website is an extension of a business's brand; therefore, it must be visually appealing and memorable. Our designers use the latest design trends and techniques to create designs that are not only aesthetically pleasing but also functional and user-friendly. We also ensure the design is consistent across all website pages, creating a cohesive and professional look and feel.
✅ Responsive Design
With the growing use of mobile devices, having a responsive website is essential. Our website designs are responsive, meaning they will adjust to fit any screen size, whether it's a desktop, tablet, or mobile phone. We ensure that our designs are optimized for mobile devices, providing a seamless user experience across all devices.
Responsive design is not only essential for user experience but also for search engine optimization (SEO). Google has stated that they prioritize mobile-friendly websites in their search results, meaning a responsive design can improve a business's online visibility.
✅ User-Friendly Navigation
A website's navigation structure is crucial to its usability. Our designers create websites with a clear and intuitive navigation structure to ensure visitors can easily find the information they need. We use a logical hierarchy of pages and menus, making it easy for visitors to navigate the website.
In addition to a straightforward navigation structure, we ensure the website's content is well-organized and easy to read. We use appropriate headings, subheadings, and bullet points to break up content and simplify scanning.
✅ Search Engine Optimization (SEO)
Search engine optimization (SEO) is the process of optimizing a website to improve its visibility on search engines. At Impakt Digital, we incorporate SEO best practices into all our website designs to ensure our client's websites are visible and easily found on search engines.
We optimize the website's content for relevant keywords and phrases and use meta tags and descriptions to improve the website's visibility on search engines. We also ensure that the website's structure and code are optimized for search engines, improving its overall ranking.
✅ Access To Reliable Support
We understand that a website is a critical part of a business's online presence, so we provide ongoing support to our clients. Our management packages ensure their websites are always up-to-date, secure, and functioning correctly.
We offer regular website backups, security updates, and monitoring to protect the website from malware and other threats. We also provide technical support to our clients, ensuring issues are resolved quickly and efficiently.
✅ Affordable Pricing
We understand that small businesses have limited budgets, so we take pride in offering affordable pricing packages. We provide transparent pricing with no hidden fees, ensuring our clients know exactly what they are paying for.
Our pricing packages include all our services' key features and benefits, ensuring our clients receive a high-quality website.
Not ready to make it official?
Take Us For A Test Drive!
Get Your Free Website Review or SEO Audit Today!
Simply provide your email, and a team member will reach out to get all the details.
Simply provide your email, and a team member will reach out to get all the details.
We'll never sell or share this information. Promise.