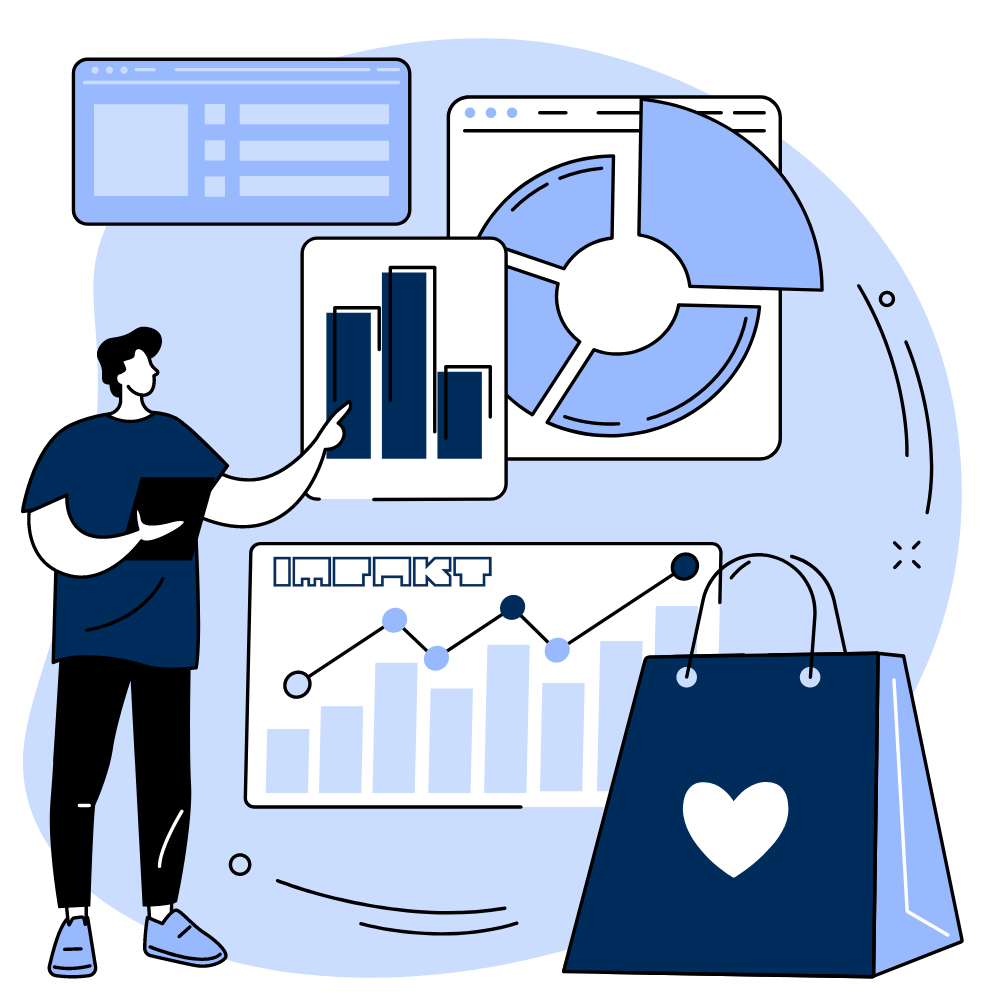 Get Results Today With PPC Campaigns
Amplify Your Reach and Ignite Your Small Business Growth
We make, manage, and market websites for small businesses.
Upgrade Your Pay Per Click Advertising Today, Experience Exponential Growth Tomorrow
Is your business struggling to connect with your target audience and achieve meaningful growth through PPC? Impakt Digital is here to deliver results and bring in leads today.
Our PPC plans offer a comprehensive suite of services designed to optimize your visibility, drive targeted traffic, and increase leads across channels like Google, LinkedIn, Twitter, and Facebook. Our PPC plans ultimately aim to generate leads, boost sales, and grow your business.
How We Do It
Our Proven 5-Step Process for PPC Success:
✅  In-Depth Business Analysis & Consultation
We start by diving deep into your business, industry, and target audience to develop a clear understanding of your goals, challenges, and opportunities. This step allows us to tailor our PPC approach specifically to your unique needs and objectives.
✅  Competitor & Market Research
Our team conducts extensive research on your competitors and the market landscape to identify their strengths, weaknesses, and advertising strategies. This knowledge helps us to create PPC campaigns that stand out, target untapped opportunities, and give you a competitive edge.
✅  Keyword & Ad Group Strategy
We meticulously select high-performing, relevant keywords and organize them into tightly-knit ad groups to maximize your ad quality score and minimize your cost-per-click. This strategic approach ensures your ads are shown to the most qualified prospects, significantly increasing your conversion rates and return on investment.
✅  Ad Creation & Optimization
Our expert copywriters and designers craft compelling, persuasive ads that resonate with your target audience and drive them to take action. We continuously test and optimize ad copy, visuals, and targeting to ensure your campaigns perform at their peak potential.
✅  Performance Tracking & Reporting
We believe in complete transparency and data-driven decision making. Our detailed performance tracking and reporting keep you informed of your campaign's progress, and our ongoing analysis allows us to fine-tune your PPC strategy for maximum results.
Not ready to make it official?
Take Us For A Test Drive!
Get Your Free Website Review or SEO Audit Today!
Simply provide your email, and a team member will reach out to get all the details.
Simply provide your email, and a team member will reach out to get all the details.
We'll never sell or share this information. Promise.