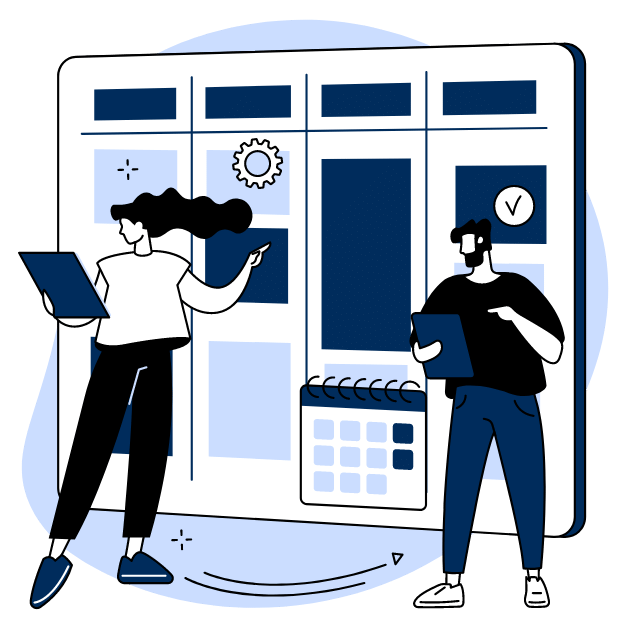 Streamline Your Website Management!
Enhance Performance and Empower Your Small Business Online
Enhance Performance and Empower Your Small Business Online
Transition from Overwhelmed to Effortless Website Management Today, Achieve Unprecedented Success Tomorrow
Is your small business struggling to maintain and optimize your website while trying to focus on your core operations? Our website management service is here to relieve the burden, allowing you to concentrate on what you do best—growing your business.
Our team of skilled professionals will manage your website, ensuring optimal performance, security, and user experience. We'll handle everything from routine updates and maintenance to website analytics, security, and performance tracking, giving you the freedom to focus on your core business priorities.
Empower your small business with effortless website management and pave the way for unprecedented online success. Contact us today for a free consultation!
Our Comprehensive Website Management Services
✅

Website Content and Design Updates
Keeping your website's content and design up-to-date is crucial to maintaining a solid online presence. Our team of web designers and content creators can help you refresh your website's design, update your content, and ensure that your website reflects your brand and business goals.
✅

Website Security and Compliance
Keeping your website secure and compliant with relevant laws and regulations is critical to protecting your business and customers. Our team can help you implement best practices for website security, data privacy, and compliance with regulations such as GDPR, ADA, and CCPA.
✅

Website Performance and Traffic Monitoring
Monitoring your website's performance and traffic is essential to identifying potential issues and opportunities for improvement. Our team can help you track website performance metrics such as page load times, bounce rates, and conversion rates and make data-driven recommendations for optimization.
✅

User Account and Permissions Management
Managing user accounts and permissions can be a time-consuming and challenging task, especially as your business grows. We can help you manage user accounts and permissions, ensuring only authorized users can access your website's content and features.
✅

Backups and Uptime Monitoring 
Our team of experts will manage your website's backups and uptime monitoring, ensuring your data remains secure and your website stays online. We'll handle everything from regular, encrypted backups to 24/7 proactive monitoring, prompt issue resolution, and performance optimization.
Website Management Packages Start At $279 Per Month
Ready to take your business website to the next level with our website management services? Contact us today to get a personalized price estimate. We'll provide you with a customized management plan that includes content updates, security, performance management, permissions, backups, and uptime monitoring.
Not ready to make it official?
Take Us For A Test Drive!
Get Your Free Website Review or SEO Audit Today!
Simply provide your email, and a team member will reach out to get all the details.
Simply provide your email, and a team member will reach out to get all the details.
We'll never sell or share this information. Promise.
Website Management

& Hosting 

Packages Start At $375 Per Month
Impakt Digital's tailored web hosting and management packages are designed to elevate your online presence and provide hassle-free website management. Whether you're a growing business or an established brand, we have the perfect package to meet your needs. Choose from our Bronze, Silver, and Gold packages, each offering unique features crafted to deliver exceptional results.
Bronze Package – $375/month Ideal for businesses just starting their online journey or with moderate traffic needs. The Bronze package combines essential services to ensure a stable online presence while allowing room for growth. Enjoy reliable hosting, regular updates, and professional support, all within your budget.
Silver Package – $600/month Perfect for businesses with increasing traffic and content demands. The Silver package builds upon the Bronze offering, adding more frequent updates, advanced optimization, and extended support. Elevate your user experience and stay competitive in the digital landscape.
Gold Package – $900/month Tailored for businesses with high traffic, complex needs, and ambitious growth goals. The Gold package is our premium offering, providing top-tier services to maximize your website's potential. Experience unparalleled support, advanced optimization, and strategic insights to outshine your competition.
Bronze
Suitable for websites with low to moderate traffic (0-2k monthly visitors)
Hosting on a reliable server with regular backups and security updates
4 content updates per month (text, images, minor changes)
1 hour of development time for implementing new features or enhancements
Basic performance optimization for faster loading times
Email support for technical assistance
Monthly traffic and performance reports
24/7 website uptime monitoring
Silver
Ideal for websites with moderate to moderate-high traffic (2k-7k monthly visitors)
All services from the Bronze package, plus:
8 content updates per month for more frequent content refreshes
2 hours of development time for additional functionality or advanced improvements
Advanced performance optimization for improved user experience
Basic search engine optimization (SEO) enhancements
Quarterly website security audits and vulnerability checks
Priority email and chat support
Gold
Designed for websites with higher traffic and more complex needs (7k+ monthly visitors)
All services from the Silver package, plus:
12 content updates per month to ensure up-to-date and engaging content
3 hours of development time for extensive feature implementations
Comprehensive performance optimization for optimal loading speeds
Conversion rate optimization (CRO) recommendations
Bi-monthly website security audits and proactive vulnerability management
Fast-tracked priority support with guaranteed response times