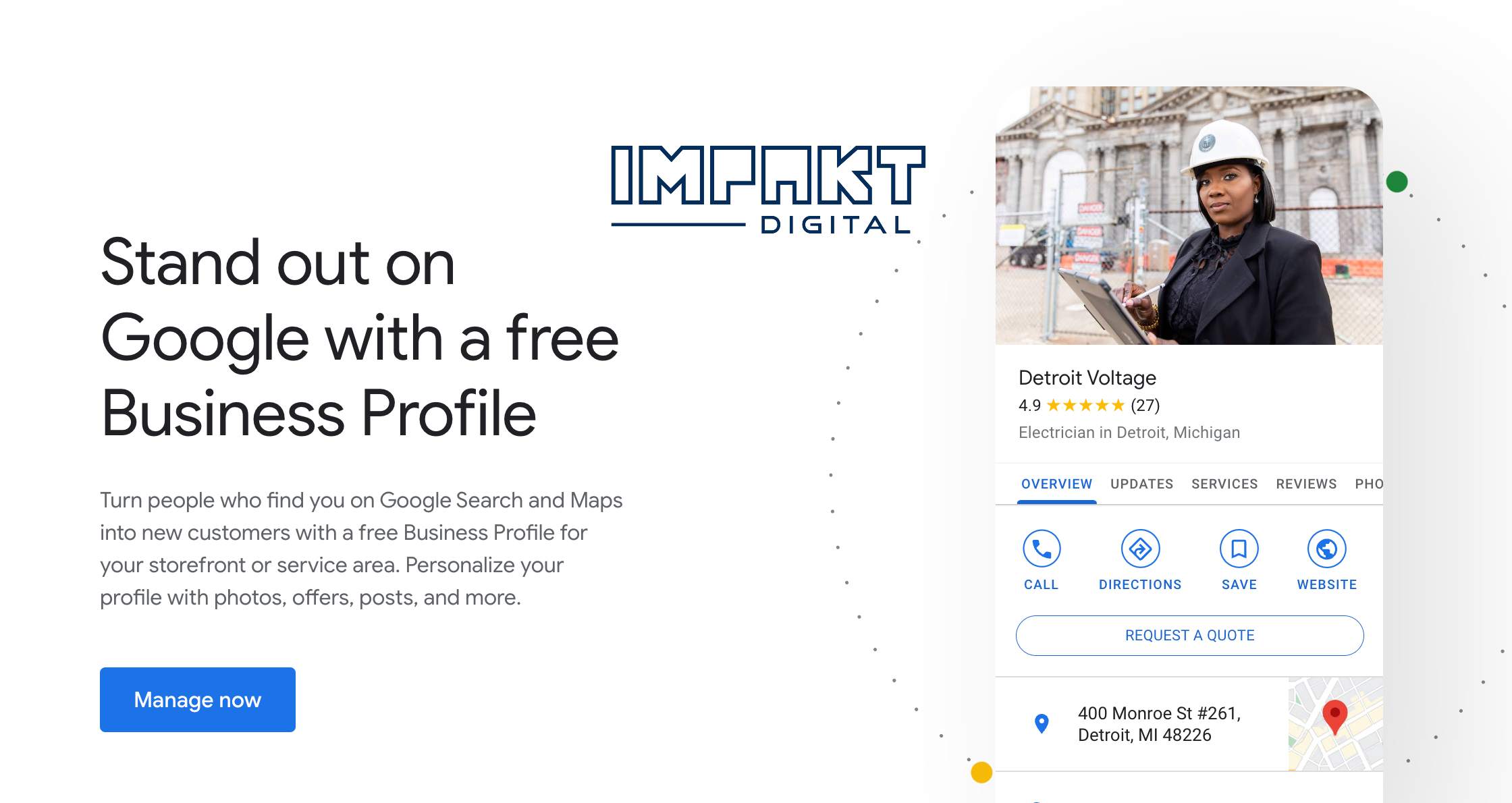 In today's digital era, it's imperative for businesses, especially small and local ones, to have an online presence. While there are numerous platforms and methods to establish your brand online, Google My Business (GMB) stands out as a crucial tool for businesses of all types and sizes. If you're a business owner in Michigan, or anywhere else for that matter, understanding and utilizing GMB can greatly influence your brand's visibility, reputation, and customer engagement.
What is Google My Business?
Google My Business is a free tool from Google that allows business owners to manage their online presence across the search engine and its expanding suite of utilities. This includes Google Search, Google Maps, and more. GMB lets businesses provide specific details like their physical address, business hours, and contact information.
The Significance of Google My Business
1. Local Search & Maps Integration: Local searches are those made by users looking for businesses or services "near me" or in a specific locality. With GMB, when someone searches for services you offer, your business details can appear right before their eyes. Moreover, with the seamless integration of Google Maps, potential customers can easily locate your physical storefront, get directions, or check traffic conditions.
2. Boost Online Visibility: GMB can significantly enhance your online visibility. By providing accurate and detailed information about your business, you help Google understand your business better, making it more likely for your brand to appear in relevant search queries.
3. Display Reviews and Ratings: A major feature of GMB is the ability for customers to leave reviews. These reviews play a pivotal role in shaping the perceptions of potential customers. Positive reviews can boost a business's credibility and attract more customers, while responses to negative reviews show your commitment to customer satisfaction.
Optimizing Your Google My Business Listing
The mere act of creating a GMB listing isn't enough. To get the most out of it, you must optimize your listing.
1. Complete All Information: Make sure every section of your GMB listing is complete. This includes business name, address, phone number, website, hours of operation, and more. Google prefers businesses that provide detailed information.
2. Use High-Quality Images: Images can make or break first impressions. Upload high-resolution images of your business, products, or services. This gives potential customers a visual understanding of what to expect.
3. Keep Information Updated: Business details might change over time – new phone numbers, relocated addresses, or modified operating hours. It's essential to keep this information updated on GMB to provide an accurate picture to customers.
Ongoing Posting & Engaging with Customers
1. Regular Posts: GMB allows businesses to post updates, offers, events, and more. Regular posting keeps your audience engaged and informed about what's new with your business.
2. Engage with Reviews: Respond to every review, be it positive or negative. Thank customers for positive reviews. For negative ones, address concerns professionally. This shows you value feedback and are dedicated to improving.
The Power of Google Reviews
Reviews can significantly influence a potential customer's decision-making process. Studies have shown that around 90% of consumers read online reviews before visiting a business. Hence, having a strong collection of positive reviews can work wonders.
1. Encourage Reviews: Ask satisfied customers to leave a review. The more positive reviews you have, the more trustworthy your business appears.
2. Address Negative Feedback: Every business might face occasional negative reviews. Instead of ignoring them, use them as constructive feedback. Address the issue, apologize if necessary, and assure the customer of a better experience next time.
Integration with Other Google Services
With GMB, businesses also benefit from integration with other Google services like Google Analytics and Google Ads. This provides a holistic view of your online presence, enabling you to understand user behavior, traffic sources, and more.
In today's competitive landscape, simply having a digital presence isn't enough. Tools like Google My Business can elevate your online visibility, making it easier for customers to find, interact, and engage with your brand. If you're a small business in Ferndale, MI, or any other region, investing time in understanding, setting up, and optimizing your GMB listing can be a game-changer. Your local digital agency, Impakt Digital, is always here to assist you in navigating the digital world. Remember, in the realm of local search, Google My Business isn't just an option; it's a necessity.